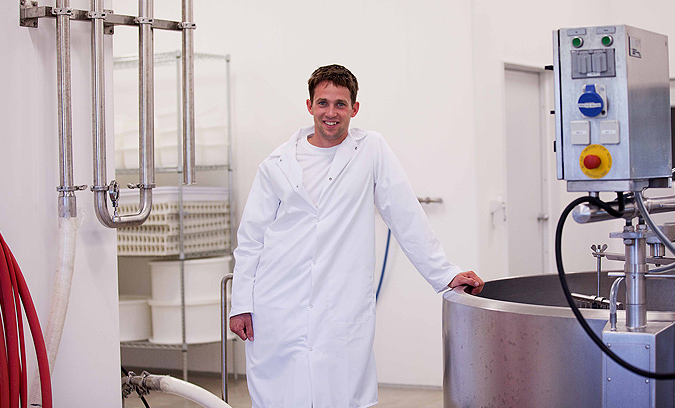 Due to the expansion of our cheese making facility we cannot accommodate any cheese maker for a day requests at this time. Check back in January 2015 to inquire about bookings!

Are you looking for more in-depth cheesemaking knowledge and experience? Call us and sign up to be a Cheesemaker for a day! This includes:
An in-depth tour of the cheese plant and basic education about the overall cheesemaking process.
Hands on experience. Being involved and get your hands wet through the entire cheesemaking process beside cheesemaker Shep Ysselstein. Also working in related activities like tending the ripening cheese in the aging room.
Throughout the day the craft of cheesemaking and all questions will be discussed.
A late lunch will be served at the plant including our cheese.
Each participant will be give two large pieces of cheese to take home.
We prefer to do this in small groups of 1 to 5 people. The experience will take about 6-7 hours starting at 9:00 am and ending around 3:00 pm. There are no specific scheduled dates, a date will be chosen that fits both the cheesemaker and the person/group being cheesemaker for a day.

To enjoy being a cheesemaker for a day there will be a fee of $150 per person for 1 to 2 people and $120 per person for a group of 3 to 5 people.